In February 2019, the 42
nd
International Budapest Bridge Festival was completely played on tablets. It was a five-day event, with mixed pairs, teams and open pairs tournaments. In the diverse field there were participants from 7 different countries. Thanks to the tablets and the closed screens, it was the quietest playing area during the rounds we have ever been to. The festival was more popular than last year with more participants in each category. The mixed pairs tournament was held on Wednesday the 13th, the winners of the event were the Els Toutenel and Gergely Szentandrási, the silver medalist pair was Tímea Takács with Dániel Tubak, and Brigitta Fischer with Péter Talyigás finished on the third place.
In this board from the mixed pairs you can see an entertaining defense. In the second trick László Honti realized he has to take the trick with the ace of spades and return a heart. Declarer took it with dummy's ace, crossed to her hand in spades and finessed the diamonds. Little did she know the king was offside when Honti played a small diamond. She crossed to her hand with the ace of clubs and tried to finesse in diamonds again but now Honti took the trick with the king, and defenders took all their tricks, the hearts and the king of clubs as well, this way the contract went down three times.
The teams tournament started on the next day. It was two days long with 22 teams. They played 11 rounds with 8 boards each.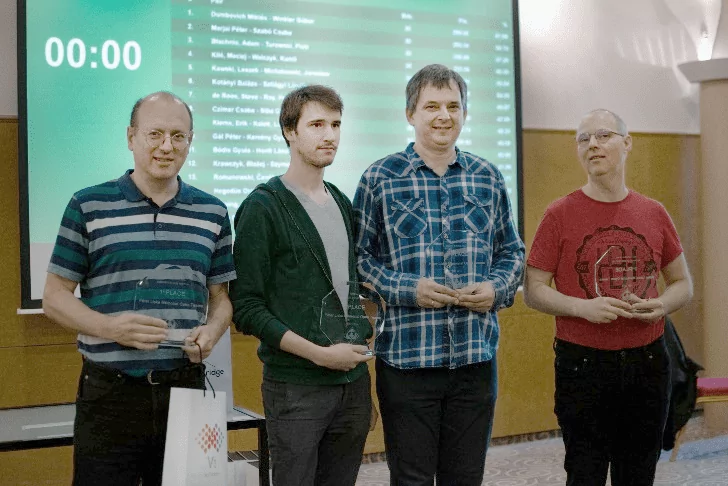 Bugris beltag
(Gyula Argay – Gergely Siba – János Gellér – Dániel Tubak) (on the picture)
Galim
(Péter Gál – György Kemény – Péter Marjai – Csaba Szabó)
Bucifej
(Péter Fehér – Dániel Vikor – Milan Macura – Dániel Bakó)
The pairs tournament took place in the weekend, where 52 pairs were competing in the qualifiers. After the first day 16 pairs qualified to the final and we organized a consolation event to the others. Here are the results of the final and the consolation:
Finals:
Miklós Dumbovich – Gábor Winkler
Péter Marjai – Csaba Szabó
Adam Błachnio – Piotr Turowski
Consolation:
András Pölöskei – Tamás Székelyhidi
Zoltán Kalmás – Júlia Szalka
Adam Suchodolski – Michał Wróblewski